Million Dollar Lady(boy)
She has two Oscars but will Hilary (can that be her real surname?) Swank ever look like a girl? Her Oscar night dress did little to dispel the idea that she is really a cross dresser, literally keeping her crown jewels under wraps. And packing more silicon and corsetry than Ru Paul.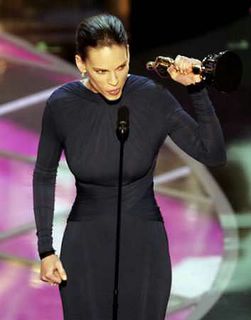 Hilary in a body wrap
After playing a transsexual girl in
Boys Don't Cry
and now a female boxer with all the ladylike allure of Danny de Vito, Hilary is going to have to work hard to shrug off her manly charms. Having a husband is not enough, especially one who is clearly just gritting his teeth and shrinking in her shadow.
Poor old Chad Lowe, Rob's less attractive brother, is apparently seeing a shrink because he feels unmanned by Hilary's success. Chad, you feel unmanned because you are being felt up by a man.